Martyrs, Martyrdom
Fear none of those things which thou shalt suffer: behold, the devil shall cast some of you into prison, that ye may be tried; and ye shall have tribulation ten days: be thou faithful unto death, and I will give thee a crown of life. Revelation 2:10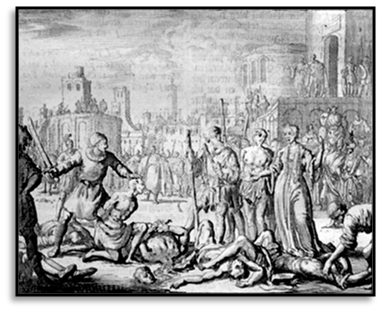 Felícia, martyred with her seven sons, Roma 104 d.C.
I rejoiced with you greatly in our Lord Jesus Christ, for that you received the followers of the true Love and escorted them on their way, as befitted you - those men confined by chains which are the diadems of them that be truly chosen of God and our Lord... Polycarp (A.D. 69-156) ch.1
We have written to you, brethren, as to what relates to the martyrs, and especially to the blessed Polycarp, who put an end to the persecution, having, as it were, set a seal upon it by his martyrdom. For almost all the events that happened previously [to this one], took place that the Lord might show us from above a martyrdom becoming the Gospel. Martyrdom of Polycarp (A.D. 156) ch.
All the martyrdoms, then, were blessed and noble which took place according to the will of God. For it becomes us who profess greater piety than others, to ascribe the authority over all things to God. And truly, who can fail to admire their nobleness of mind, and their patience, with that love towards their Lord which they displayed? Who, when they were so torn with scourges, that the frame of their bodies, even to the very inward veins and arteries, was laid open, still patiently endured, while even those that stood by pitied and bewailed them. But they reached such a pitch of magnanimity, that not one of them let a sigh or a groan escape them; thus proving to us all that those holy martyrs of Christ, at the very time when they suffered such torments, were absent from the body, or rather, that the Lord then stood by them, and communed with them. And, looking to the grace of Christ, they despised all the torments of this world, redeeming themselves from eternal punishment by [the suffering of] a single hour. For this reason the fire of their savage executioners appeared cool to them. For they kept before their view escape from that fire which is eternal and never shall be quenched, and looked forward with the eyes of their heart to those good things which are laid up for such as endure; things "which ear has not heard, nor eye seen, neither have entered into the heart of man," but were revealed by the Lord to them, inasmuch as they were no longer men, but had already become angels. Martyrdom of Polycarp (A.D. 156) ch.2
For, when the proconsul sought to persuade him (Germanicus), and urged him to take pity upon his age, he attracted the wild beast towards himself, and provoked it, being desirous to escape all the more quickly from an unrighteous and impious world. Martyrdom of Polycarp (A.D. 156) ch.3
Now one named Quintus, a Phrygian, who was but lately come from Phrygia, when he saw the wild beasts, became afraid. This was the man who forced himself and some others to come forward voluntarily [for trial]. Him the proconsul, after many entreaties, persuaded to swear and to offer sacrifice. Wherefore, brethren, we do not commend those who give themselves up [to suffering], seeing the Gospel does not teach so to do. Martyrdom of Polycarp (A.D. 156) ch.4
But when they were about also to fix him with nails, he said, "Leave me as I am; for He that gives me strength to endure the fire, will also enable me, without your securing me by nails, to remain without moving in the pile." Martyrdom of Polycarp (A.D. 156) ch.13
It is neither possible for us ever to forsake Christ, who suffered for the salvation of such as shall be saved throughout the whole world (the blameless one for sinners), nor to worship any other. For Him indeed, as being the Son of God, we adore; but the martyrs, as disciples and followers of the Lord, we worthily love on account of their extraordinary affection towards their own King and Master, of whom may we also be made companions and fellow-disciples! Martyrdom of Polycarp (A.D. 156) ch. 17
I write to all the churches, and I bid all men know, that of my own free will I die for God, unless you should hinder me. I exhort you, be you not an unseasonable kindness to me. Let me be given to the wild beasts, for through them I can attain unto God. I am God's wheat, and I am ground by the teeth of wild beasts that I may be found pure bread [of Christ]. Rather entice the wild beasts, that they may become my sepulcher and may leave no part of my body behind, so that I may not, when I am fallen asleep, be burdensome to any one. Ignatius: to the Romans (A.D. 35-105) ch.4
May naught of things visible and things invisible envy me; that I may attain unto Jesus Christ. Come fire and cross and grapplings with wild beasts, [cuttings and manglings,] wrenching of bones, hacking of limbs, crushings of my whole body, come cruel tortures of the devil to assail me. Only be it mine to attain unto Jesus Christ. Ignatius: to the Romans (A.D. 35-105) ch.5
Wherefore the Church does in every place, because of that love which she cherishes towards God, send forward, throughout all time, a multitude of martyrs to the Father. Irenaeus (A.D. 180) Ante-Nicene Fathers vol.1 pg. 511
He then avoids denying Christ through fear by reason of the command; nor does he sell his faith in the hope of the gifts prepared, but in love to the Lord he will most gladly depart from this life; perhaps giving thanks both to him who afforded the cause of his departure hence, and to him who laid the plot against him, for receiving an honorable reason which he himself furnished not, for showing what he is, to him by his patience, and to the Lord in love, by which even before his birth he was manifested to the Lord, who knew the martyr's choice. Clement of Alexandria (A.D. 195) Ante-Nicene Fathers vol.2 pg.411
"We are indeed confident and deem it good rather to be absent from the body, and present with the Lord;'' in order, that is, that we may walk by sight rather than by faith, in realization rather than in hope. Observe how he here also ascribes to the excellence of martyrdom a contempt for the body. For no one, on becoming absent from the body, is at once a dweller in the presence of the Lord, except by the prerogative of martyrdom, he gains a lodging in Paradise, not in the lower regions. Tertullian (A.D. 198) Ante-Nicene Fathers vol.3 pg.576
II. Exhortations to martyrs (Top)
Women received their dead raised to life again: and others were tortured, not accepting deliverance; that they might obtain a better resurrection. Hebrews 11:35
Since, O son, you desire martyrdom, hear. Be you such as Abel was, or such as Isaac himself, or Stephen, who chose for himself on the way the righteous life. You indeed desire that which is a matter suited for the blessed. First of all, overcome the evil one with your good acts by living well; and when He your King shall see you, be you secure. It is His own time, and we are living for both; so that if war fails, the martyrs shall go in peace. Many indeed err who say, With our blood we have overcome the wicked one; and if he remains, they are unwilling to overcome. He perishes by lying in wait, and the wicked thus feels it; but he that is lawful does not feel the punishments applied. With exclamation and with eagerness beat your breast with your fists. Even now, if you have conquered by good deeds, you are a martyr in Him. You, therefore, who seek to extol martyrdom with your word, in peace clothe yourself with good deeds, and be secure. Commodianus (A.D. 200) Ante-Nicene Fathers vol.4 pg. 215


III. Rewards of martyrdom (Top)
If we suffer, we shall also reign with him: if we deny him, he also will deny us. 2 Timothy 2:12
"What did they suffer?" say I. "Listen," said she. "Stripes, imprisonments, great tribulations, crosses, wild beasts, for the Name's sake. Therefore to them belongs the right side of the Holiness - to them, and to all who shall suffer for the Name. But for the rest is the left side. Howbeit, to both, to them that sit on the right, and to them that sit on the left, are the same gifts, and the same promises, only they sit on the right and have a certain glory." Hermas (A.D. 150) ch. 13
And if you also read these words in a hostile spirit, you can do no more, as I said before, than kill us; which indeed does no harm to us, but to you and all who unjustly hate us, and do not repent, brings eternal punishment by fire. Justin Martyr (A.D. 160) Ante-Nicene Fathers vol.1 pg.178
We call martyrdom perfection, not because the man comes to the end of his life as others, but because he has exhibited the perfect work of love. Clement of Alexandria (A.D. 195) Ante-Nicene Fathers vol.2 pg.411
You see that martyrdom for love's sake is taught. And should you wish to be a martyr for the recompense of advantages, you shall hear again. "For we are saved by hope: but hope that is seen is not hope: for what a man sees, why does he yet hope for? But if we hope for that we see not, then do we with patience wait for it." "But if we also suffer for righteousness' sake," says Peter, "blessed are we. Be not afraid of their fear, neither be troubled. But sanctify the Lord God in your hearts: and be ready always to give an answer to him that asks a reason of the hope that is in you." Clement of Alexandria (A.D. 195) Ante-Nicene Fathers vol.2 pg.417
SEE ALSO: PERSECUTION, DEATH, CHRISTIANITY